Today sees the release of Easify Feature Pack 8, a free upgrade that delivers a number of new and improved features to Easify.
Easify Feature Pack 8 is a FREE upgrade for existing users and bring you more new features, updates and bug fixes. Read on to find out what's new in our latest upgrade...
What's New in Easify Feature Pack 8
This latest version of Easify focuses mainly on the new Paperwork Designer, but also brings you two other brand new features, the Bulk Invoicer and Product Sales History.
Easify Feature Pack 8 also includes a number of minor updates and bug fixes that have been addressed since the previous update.
What's New in EASU V1.0.0.2
Easify now features a comprehensive Paperwork Designer that allows you to fully customise your public facing paperwork such as Invoices, Quotations, Purchase Orders, Price Labels etc...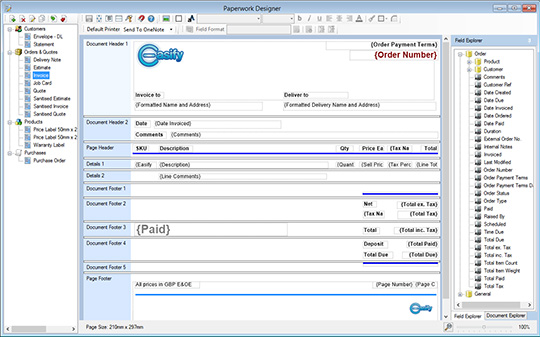 The Paperwork Designer features an intuitive WYSIWYG (What You See Is What You Get) designer that allows you to drag and drop text, pictures and data fields onto your paperwork allowing you to quickly and easily create paperwork that matches your company image.
The great thing about the Paperwork Designer is that all of the documents that you design are stored in the Easify database, so you only need to edit or create them once, and they are instantly available to all users on your network.
If you don't want all of your users to have access to a document you created in the Paperwork Designer, no problem... The Paperwork Designer gives you full control over the security of each document allowing you to choose who can or can't print the document...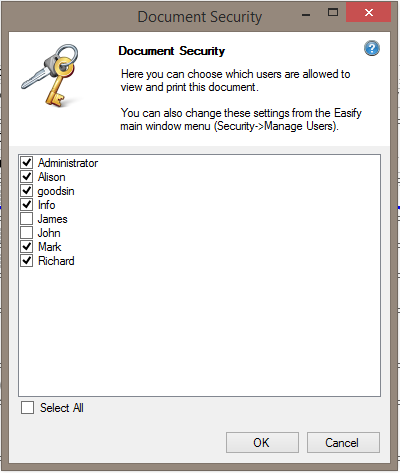 You can even choose where you're documents can be printed from in Easify using the Menu Editor. This allows you to specify which print menus an item of paperwork will be printable from, so for example, if you want to be able to print a customer address label from the Order Details window you can do this with the Menu Editor that is built into the Paperwork Designer.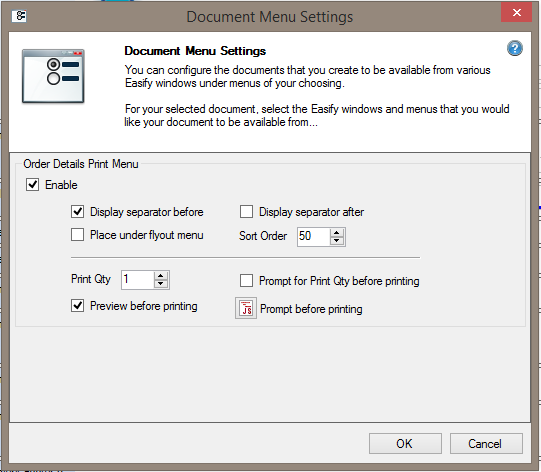 Product Sales History
By popular demand we have included a powerful Product Sales History tool within Easify which can be easily accessed from a number of areas.
For instance, if you are in the main Products Window, you can simply click on a product and instantly see the history of how that product has sold over a set period of time.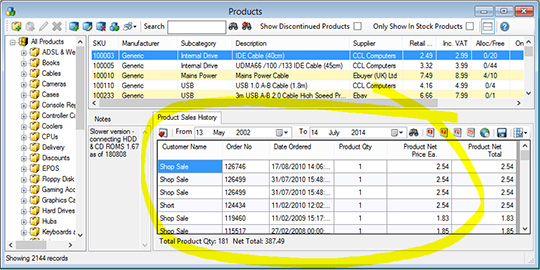 The Product Sales History can be filtered to show a specific date range so you can easily see how a product has sold over the past month.
You can also export the current Product Sales History view to a CSV file for further processing outside Easify.
The Product Sales History can be viewed from the main Products Window, from within the Product Details Window, from the main Customers Window, the Customer Details Windows and also from the Suppliers Window.
So for example, if you open the Main Customers Window and click a customer, you can instantly see a history of all of the products that they purchased for a given time period.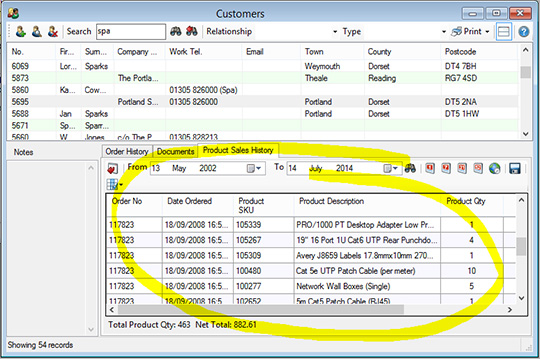 Bulk Invoicer
Another much requested new feature is the Bulk Invoicer.
With the Bulk Invoicer you can bring up a single Window that contains a list of all of your outstanding invoices, and choose to automatically invoice them via email, to save a PDF invoice to the DMS (Document Management System), to print the invoice to a printer, or a combination of all three.

The Bulk Invoicer is a great time saver if you regularly invoice multiple customers.
Improved Help System
Also new for Feature Pack 8 we have improved the Easify Help system to make it even easier to find the information that you need.
You will notice that throughout Easify we have included little blue help icons.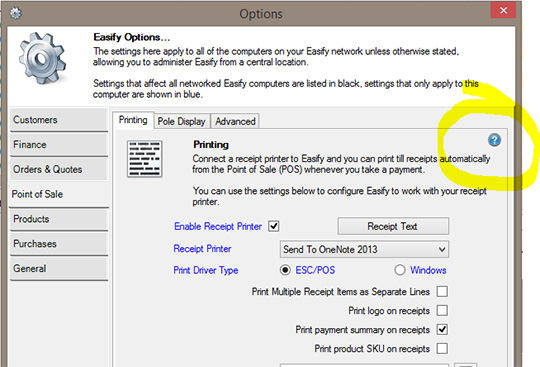 Clicking these blue icons will take you straight to the relevant page in the Easify Help System.
By default you will be taken to the online version of our help system, but if you are not connected to the internet you can choose to view offline help instead (via Easify Options).
We've also improved the online help system to make it much easier to navigate. Finding the answers you need has never been easier!