As always, Easify feature packs are free upgrades that give you great new features as well as critical updates and bug fixes.
Read on for the latest list of new features that Feature Pack 6 gives you...
What's New in Easify Feature Pack 6
Easify Feature Pack 6 brings you some great new features, and focuses heavily on tweaks and changes that have been requested by our friends in the Easify Forums. We have tried to accommodate as many feature requests as possible and we're sure you will find them beneficial. It hasn't been possible to implement all of the feature requests that we received in the time available, so if your feature request hasn't made it into Feature Pack 6 it will still be on our hit-list and will might well be part of Feature Pack 7 when it is released.
New for Feature Pack 6 is integrated credit card processing courtesy of YesPay. With YesPay integration in Easify you can now process chip and PIN card payments & refunds directly from Easify. Also included is full support for processing cardholder not present payments, so you can also take card payments by mail order or telephone in the back office.
International currency support has been included for FP6. We've included international currency support for around 240 countries and tax systems, so no matter where you are in the world you can Easify your small business.
Point of Sale live stock levels. With FP6 you can now see live stock levels within the POS, and if you're using the fully automatic stock control software setting this will also show you how much stock is allocated and free to sell.
Customisation of quotes, invoices and other customer facing paperwork. Now you can customise the look and feel of quotes and invoices to match your corporate identity.
Here are some more of the highlights from Easify Feature Pack 6...
What's New in Easify Feature Pack 6

Now you can process card payments directly within Easify with YesPay integration.
With full support for chip & PIN and cardholder not present transactions, this fully PCI-DSS pre-accredited card processing solution will save you time, save you money and will help you project a professional image to your customers.
Simply sign up for a YesPay account, plug in a USB chip & PIN Pinpad, and you're ready to start processing card payments.
International Currency Support...

Easify now supports currencies for 240 countries, and is fully customisable for any country not already included.
Includes unicode support for international character sets and multi character currency symbols. Also has the facility to separately configure currency symbol characters for international receipt printer code pages so you can be sure that your receipt printer will be fully compatible
Enhanced Cashbook Data Export...
Also new for Feature Pack 6 is an upgrade to the way you can pull financial data from the cashbook.
We've included the facility to view detailed VAT breakdowns in the cashbook along with exporting of zero rated VAT content.
There is also an all new 'Export Everything' facility where you can export all of your sales and purchasing activity along with complete VAT breakdown as well as breakdown by nominal code.
Your accountants life just got a whole lot easier!
Point of Sale Live Stock Levels...
By popular demand we have included the facility to view live stock levels in the POS...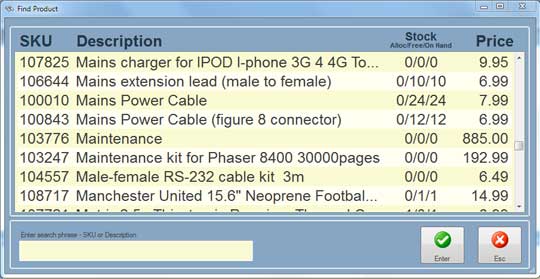 If you use Easify's automatic stock control software mode this will also show you stock allocations so you need never oversell a product again.
POS Discounting...
In Easify FP6 we've added the facility to discount POS sales by percentages.
In the POS simply press F6, enter the percentage to knock off an item or the sale total, and Easify will do the rest...
Receipt Logo Printing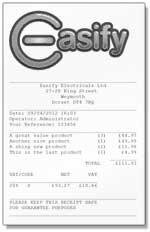 Also new in Feature Pack 6 is the facility for you to print your own company logo on till receipts.
Add a professional flair to your point of sale by adding your logo to receipts.
We have also included more options when it comes to formatting your receipt text too, so now it's even easier to get your receipts looking exactly how you want them.
If you have the optional YesPay card processing integration that is now supported in FP6, Easify will also print card receipts within the main receipt body. So you will no longer need to give your customers a till receipt and a separate card receipt, as with Easify it's all printed on the one receipt.
Quote & Invoice Printing Enhancements...
The way that quotes, invoices and other customer facing paperwork has also been overhauled.
Now you can choose colours that are used for printing customer facing paperwork so you can get the look and feel of your paperwork to match your corporate identity.
We've also included the ability for you to print your own stock codes on quotes and invoices, again helping to make your paperwork present a seamless extension of your identity.
And more...
As always Easify feature packs also include a roll up of bug fixes, updates and other tweaks and improvements - too many to list here in their entirety. Full details of Easify's many and varied features can be found in our online user guide.
We hope you like the new features of Easify Feature Pack 6 and welcome your feedback. Why not join us in the forums and tell us what you would like to see in Feature Pack 7!