As always, Easify feature packs are free upgrades that give you great new features as well as critical updates and bug fixes.
Read on for the latest list of new features that Feature Pack 6 gives you...
Easify Feature Pack 5 Feature List
Easify Feature Pack 5 brings you many great new features, as well as providing support for the forthcoming release of Easify Advanced Server Upgrade which will be released in August 2011.
With Feature Pack 5 you can now store images for your products along with detailed HTML descriptions. This product info can be easily recalled whenever you need it, and printed out for your clients as brochures.
We have included a brand new Document Management System (DMS), so that you can easily drag and drop files and documents into an order or purchase, and Easify will store them where you can easily get at them. No more wasted time searching endless folders for files, keep your files in the Easify DMS and they will always be at hand.
You can now customise order status to exactly suit the needs of your business.
A new interactive sales chart allows you to see how your sales have been going over a period of time, and you can easily switch in and out different types of sales (orders) and zoom right into the detail.
Also new for this version is the addition of Postcode Lookups. If you have a valid Easify Postcode Lookup PIN you can enter a customers postcode, and lookup their address with the click of a button. Click here for more info...
Here are some of the highlights from Easify Feature Pack 5...
Product Images & HTML Product Info...
This great feature allows you to store images for your products along with HTML descriptions, so you always have detailed product info to hand.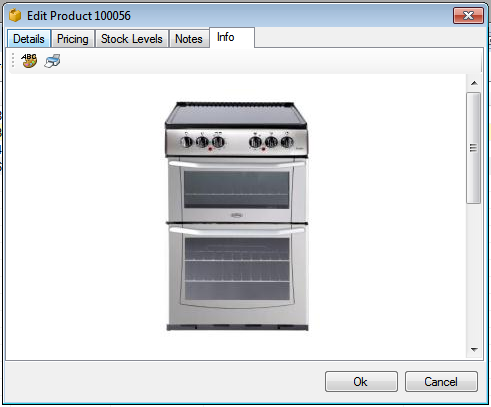 We've included a WYSIWYG info editor so you can make your product info's look as good as you want. Or simply cut and paste product info straight from the web into Easify.
Document Management System...
Now when you want to store files or documents, simply drag and drop them into Easify, and it will automatically save them for you without you having to think about where they are being kept.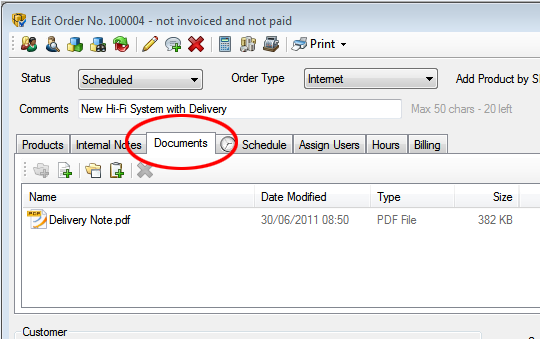 If you want to save an Easify Quote, Invoices or Job Card to file you can do this with a couple of clicks.
...and when you want to find the document again, simply open the order in Easify and click on the Documents tab as shown above, and all the documents related to the order are instantly accessible.
You don't have to stick to Easify files and documents either, you can drag and drop any kind of file to the documents tab from Windows or from Microsoft Outlook attachment.
This great new feature also works for purchases too, so you can easily store documents and files related to your suppliers and purchases.
What's more all of the documents you store in the Easify document management system are easily accessible from Windows, or from any other application for that matter, so you don't have to worry about your valuable documents being tied within a single application.
Interactive Sales Report Chart...
Also new for Feature Pack 5 is an interactive sales report chart...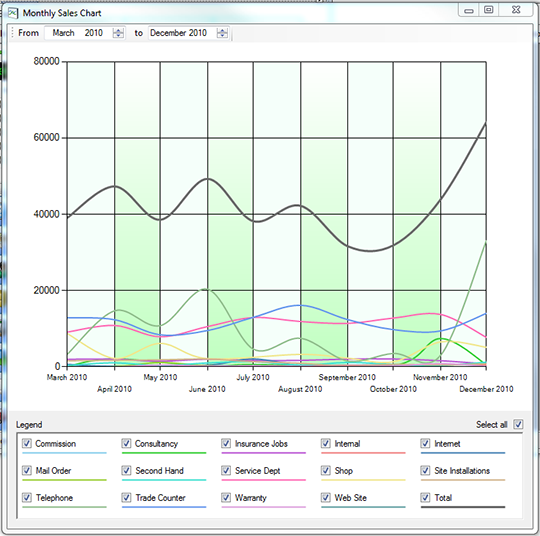 Select a date range for the chart and instantly see how sales of each type of order have performed over time.
You can zoom in on whichever order types you are interested in by selecting which order types to view in the chart legend.
A great way of spotting sales trends.
Lookup Addresses from Postcodes
Never have to type a customers address again!
Easify now supports address lookups from the Royal Mail postcode database, all you need is a Postcode Lookup PIN and an internet connection and away you go.
Enter a customers postcode...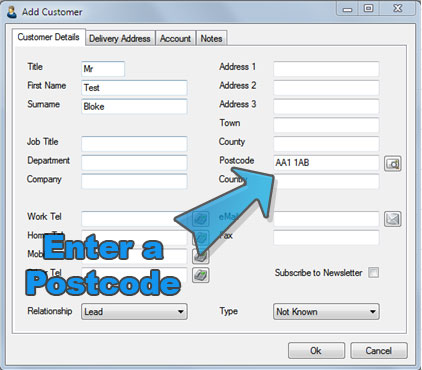 ...click the button and choose the customers address from the list.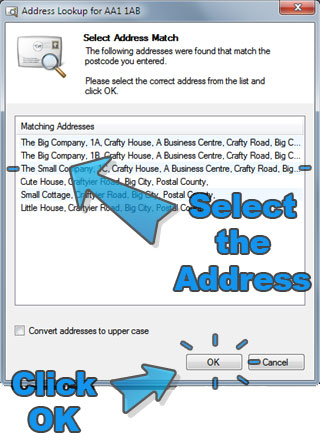 Easify grabs the customers address details from the cloud, and pops them into the customer record for you.
Reduce the risk of human error and save time and money with this great new feature! Click here for more information about postcode lookups...
One-click Email Quotes & Invoices from Outlook...
We've had a lot of requests for this feature, and here it is...
If you use Microsoft Outlook for email, with a single click you can save a Quote or Invoice as a PDF to the Easify Document Management System, and automatically attach it as an attachment to an Outlook email.
Easify will automatically address the email to the recipients email address, all you need to do is type in the email message and click send.
And much much more...
As always Easify feature packs also include a roll up of bug fixes, updates and other tweaks and improvements - too many to list here in their entirety. Full details of Easify's many and varied features can be found in our online user guide.
We hope you like the new features of Easify Feature Pack 5 and welcome your feedback. Why not join us on Twitter and tell us what you would like to see in Feature Pack 6!